Heirs of the Reformation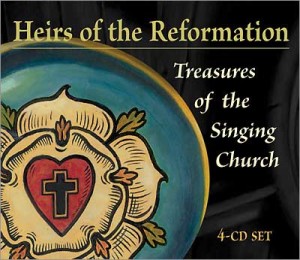 This stunning follow-up to the best-selling Martin Luther: Hymns, Ballads, Chants, Truth showcases Lutheran music of the generations immediately following Luther's time. Using choir, soloists, modern instruments, and historical instruments, this varied collection includes well-loved hymns, some Lutheran gems, and modern settings of old favorites.
With contributors including Gerhardt, Hammerschmidt, Praetorius, Bach, Schuetz, Hildebrand, Gerike, Sedio, Busarow, and Schalk, among many others, these powerful texts and moving musical settings are sure to provide something meaningful for every heir of the Reformation. 4 CDs. 45 tracks. Total Time: 3 hrs, 47 mins. Purchase a copy of this unprecendented collection from Concordia Publishing House.
Product Review
"Heirs of the Reformation is nothing if not ambitious. Over forty chorales (dating from the time of Luther to German high Orthodoxy) are set by an encyclopedic list of cantors spanning the centuries, from Praetorius and Scheidt to Robert Buckley Farlee and Kevin Hildebrand. The dedicated vocal performances are backed by a kaleidoscopic variety of instrumentation, ranging from organ, brass and woodwinds to the period ensemble Musik Ekklesia. Kudos go to recording consultants Henry Gerike, Peter Reske, and Philip Spray; they and all the performers involved have produced not only a fine reference work, but a richly devotional listening experience."
—GraceNotes (June/July 2009)
High praises for Heirs of the Reformation. Read a review by Karl Osterland from Cross Accent: Journal of the Association of Lutheran Church Musicians.