Since the days of the Reformation, certain key books have been a part of the life of Lutherans: the Bible, the hymnal, the Catechism. In addition, Lutherans have treasured prayer books and the Book of Concord as essential texts to keep their eyes fixed on Christ.
The books in The Essential Lutheran Library will serve to give shape and definition to the faith and life of every Lutheran Christian. Included in this special collection are:
| | |
| --- | --- |
| | Engage in devotional, Christ-centered Bible reading and study with comprehensive notes and practical application of The Lutheran Study Bible. |
| | A hymnal with a rich compilation of Christ-centered services, psalms, hymns, and prayers to nourish the faithful week after week for generations to come. |
| | The Small Catechism explores the Six Chief Parts of Christian Doctrine: the Ten Commandments, the Apostles' Creed, the Lord's Prayer, the Sacrament of Holy Baptism, Confession, and the Sacrament of the Altar. |
| | Find all your devotional needs in one place: prayers, hymns, Scripture readings and more. |
| | This edition address the needs of contemporary Christians and strengthens users as they pray. |
| | This translation includes Luther's introductions and a suggested reading schedule. |
| | This edition of the Lutheran Confessions will instruct, inspire, and educate all who use it and help them learn what it means to be, and to remain, a genuinely confessing Lutheran Christian. |
| | This edition of the classic work of The Proper Distinction Between Law and Gospel make this powerful tool available in a format for all readers of the Bible. |
| | What began as a popular 18-booklet Bible study series, this work gathers together all the rich content of the series, orders it around the Nicene Creed, and presents it in one accessible volume so readers can access the facts they need. |
---
The Essential Lutheran Library Packages
The Essential Lutheran Library is available in three collections, from the standard package, to the premier package, featuring genuine leather bindings. Read about the three options here.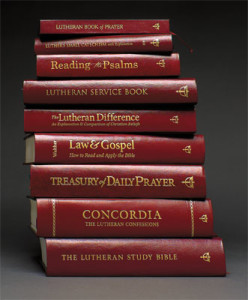 The Essential Lutheran Library – Standard Package
The Essential Lutheran Library – Premium Package
The Essential Lutheran Library – Ultimate Package