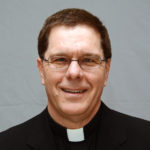 The beautiful hymn "Though All Our Life is Like a Scroll," winner of our Reformation Hymn competition, truly embodies the Reformation 2017 theme "It's Still All About Jesus." Rev. Dr. Wilfred L. Karsten made special use of the word still throughout his five-verse hymn text. As he wrote in his contest entry, "Half a millennium later, the truths of the Reformation continue to apply."
Rev. Karsten is the pastor at Holy Cross Lutheran Church in Moline, Illinois.
---
 Listen to a recording of "Though All Our Life is Like a Scroll," featuring a new tune by composer Dr. Jeffrey Blersch.
Though All Our Life Is Like a Scroll

Though all our life is like a scroll
Unrolled with blemished pages;
Though sin has shredded what was whole
And death is now our wages;
Yet here we stand in confidence,
With Jesus as our sole defense,
For He alone still saves us.

Though pompously we try to dress
In costumes of our making;
Though fig leaves of self-righteousness
Are futile and heartbreaking;
Yet filthy rags Christ gladly wore
So we would perish nevermore.
His grace alone still clothes us.

Though earth's deep waters foam and roar
As surging waves are rolling;
Though all the nations rage with war
While bells of doom are tolling;
Yet God gives peaceful fortitude,
He nurtures us with Heaven's food.
True faith alone still anchors.

Though critics cut out Scripture's claims
And treat them with derision;
Though they conduct their hostile aims
With scalpels of suspicion;
Yet how the living, two-edged sword
Proclaims the dead and risen Lord!
God's Word alone: still truthful.

Now sing a high doxology
To God who gives salvation.
Both here and in eternity
Let this be our vocation.
To Father, Son, and Spirit raise
A symphony of grateful praise,
For He alone is worthy.
---
Download the Hymn
Two settings of this hymn are available for your church's use. One setting features a familiar tune (think of "Salvation unto Us Has Come" LSB 555), and the other setting option debuts a new tune written by Dr. Jeffrey Blersch, Professor of Music at Concordia University, Nebraska.
Download Hymn with Familiar Tune or Download Hymn with New Tune
Each PDF includes accompaniment and reproducible pages for congregational singing.
---