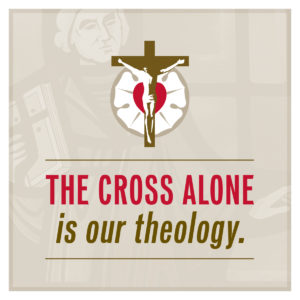 The Lutheran Church—Missouri Synod has created new, free materials for you to help promote the celebration of the 500th anniversary of the Reformation this year in your congregation and community.
With it being a popular and current news story, the 500th anniversary of the Reformation is a unique opportunity for congregations to proclaim Christ in their community. People who typically pay no heed to the issues of religion and the Church are curious about Luther and the Reformation.
The local and national media will present Luther in various ways, many of which will not reflect Luther's theological focus. The new materials will help congregations of the LCMS clearly  proclaim and teach the true message of the Reformation.
The Rev. Randall Golter, special assistant to the president, observed, "I've been reading lots of Luther. The issues haven't changed: Is Jesus alone sufficient for our salvation? The Reformation answered that. So we must use every avenue possible to communicate this to others." Golter continued, "The 500th Reformation anniversary is all about Jesus! That's reason enough to be aggressive in celebration and proclamation."
We can all benefit from a review of the central teachings of the Reformation: Salvation by grace, through faith, because of Jesus; Sola gratia, sola fide, sola Scriptura, solus Christus; Word and Sacraments; the righteous will live by faith; etc.
This same message needs to be heard by those inside and outside the LCMS. Golter said, "We are compelled to tell others of the Reformation. We simply can't keep quiet."
The congregational resource kit is available at by clicking here and contains materials that you can download and use. You can customize them to include your congregation's name and contact information.
The kit includes posters for internal and external use, newspaper ads and articles, a church newsletter article, a banner, bulletin inserts and blurbs, and social media graphics. Here are a few samples:
Go to this page to download the kit: Reformation Celebration Congregation Kit
This kit complements the resources we've already made available on our Resources page.